Wooden Quilt Wall Hangings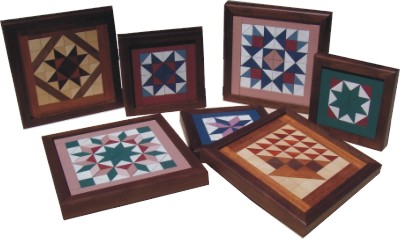 We started making wooden quilt wall hangings in 1986.
We make painted and natural wood designs.
For the painted quilts we paint rough wood to create a textured design. We cut each piece one at a time with a bandsaw. We paint each piece then assemble them into the classic quilt designs.
For the natural wood quilts we the natural colors from different species of woods to create the designs. We precisely cut each piece, then glue it into place. We sand each design smooth then finish it with clear lacquer to highlight the wood colors and grain.
We frame all the quilts in solid walnut. We sand the frames smooth, finish them with oil, then buff them to a soft to the touch luster.
Every wooden quilt wall hanging is entirely handmade in the USA.
To see our different wooden quilt wall hanging designs click the pages.